Posted by Charity on March 19th, 2008
I have been in bed with the flu since – what day is it? – Monday evening. The flu, in case you have not had it lately, really, really bites.
I feel like I was run over several times by a golf cart or other small vehicle that would cause a lot of pain, but probably not kill me.
And that is on top of the throbbing headache, chills, and hacking cough deep in my chest.
There will be no She's Right on Channel 17 this Friday, due to my unfortunate illness.
I should be back next month on Friday, April 18 at 5:25 PM.
In the meantime, I thought I would leave you with this comic.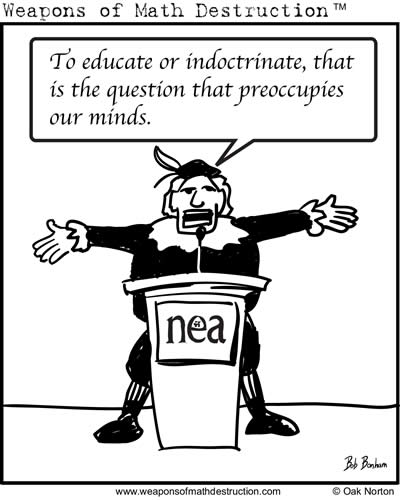 Be sure to visit the Weapons of Math Destruction website, where you can view the archives and sign up to receive WMD in your inbox.
The site was started by a dad, Oak Norton, who was fighting fuzzy math in his child's school, after learning that they no longer teach times tables.
A few years ago my oldest daughter was finishing up her third grade year and at a parent/teacher conference I asked her teacher when they were going to start learning the times tables since they hadn't yet and I'd done it nearly thirty years earlier in third grade.

The teacher replied, "Oh, we don't do that anymore." [pause for picking my jaw off the ground]

"You don't do that anymore?"

"That's right, it's not part of the curriculum."

"Well then how do you expect the children to learn their times tables?"

"Well," she thoughtfully paused, "the smart kids will just pick it up as they go." This time my jaw cracked hard when it hit the ground and I was off to the principal's office.
You can read the rest of the interview with Oak Norton, from which that quote came, over at edspresso.
Remember that next time the school officials blame cite the income gap. (Yeah, the well-off educated parents are supplementing their children's educations, while the poor parents, who are busy working two jobs to make ends meet foolishly think the schools are actually teaching this stuff.)
Okay, back to bed. (Don't ask what I am doing on here.)